WHAT'S THE HAPS, ladies and gents from around the world!  This is your man, Remy Tyndle. I do believe it's about that time I introduced you Kamen Rider (Masked Rider); a long running TV show from the Country of the Red Sun that circles around the lives of Japanese civilians, who transform into masked (translated to Kamen in Japanese), motorcycle-riding super heroes to combat evil.  It is produced by the entertainment company, "Tokusatsu", the same guys who brought you Godzilla.  Some may recall the name, as there have been two American adaptations: Saban's Masked Rider in 1993 and Kamen Rider Dragon Knight in 2009.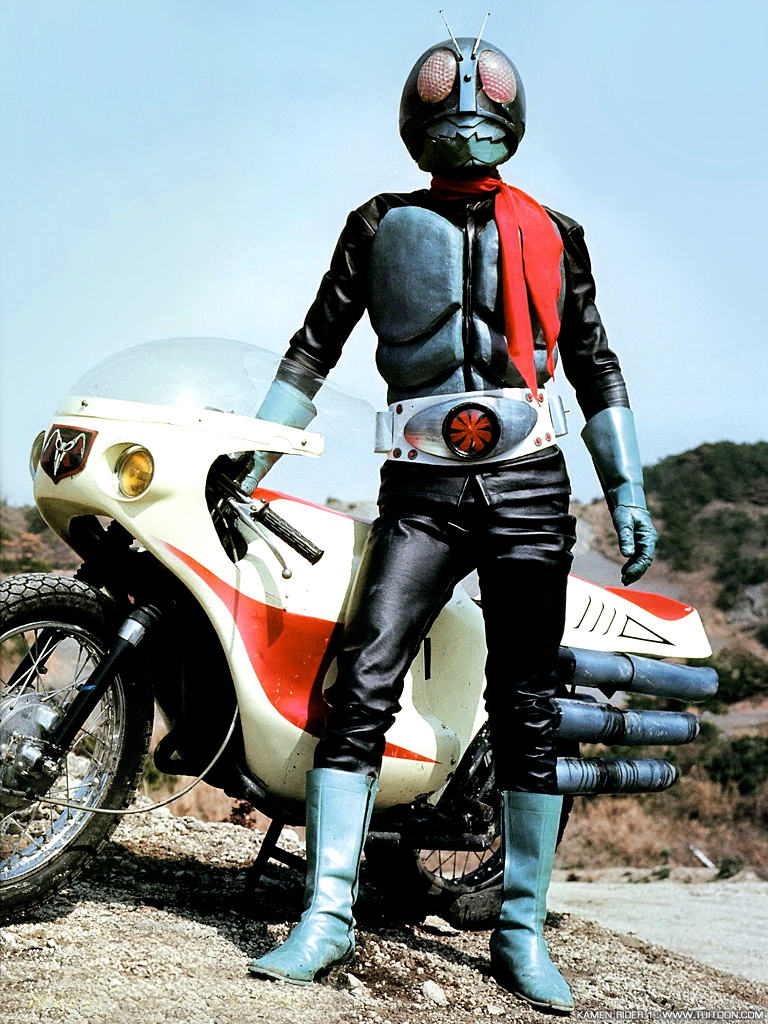 The First Kamen Rider 
(or Kamen Rider Ichigo, as the fans address him)
Let me take you back 44 years ago. The year is 1971, the start of the first Kamen Rider series that follows a scientist and motorcyclist by the name of Hongo Takeshi. Hongo is kidnapped by a terrorist organization (Shocker!) in order to be reconstructed into another one of their dangerous cyborgs to do their evil bidding along their path of WORLD DOMINATIONNNN!!!!… *cough*…  However, Shocker's plan does not unfold in their favor. Being the iron-willed badass he is, Hongo rebels against Shocker. Using his new powers to take down the terrorist organization, he now operates as the Grasshopper-themed cyborg, Kamen Rider. Thus, a legendary franchise was born.
Main heroes from every completed Kamen Rider series so far.  Showa Era, Top.  Heisei Era, bottom.
The franchise's seasons are divided into two separate periods of time: "Showa" (Old School 1971 – 1990s) & "Heisei" (Current 2000 – Present).  The terms, "Showa" and "Heisei" refer to two eras of Japanese history and the emperors of the country at that time.  The first wave of the Kamen Rider shows lasted until 1989, but afterwards the brand began to dwindle in popularity. Without the airing of any mainstream TV shows, the 90's were pretty much the dark ages of the franchise so to speak.  The only notable productions were a few movies that introduced the last three Kamen Riders of the first division. With the passing of the original Kamen Rider creator (Shotaro Ishinomori) in 1998, one could truly say that it marked the end of the "Showa" era.
Kamen Rider Kuuga (2000-2001)
Time gives birth to the year 2000 and the revival of Kamen Rider with the successful Kamen Rider Kuuga.  Kuuga did not only mark the return of the franchise, it was a game-changer. Rather than accepting the traditional plot the "Showa" series had been relaying decades ago (evil organization plots to take over the world, a Kamen Rider stops them, rinse and repeat), Kuuga took on its very own story, and its been that way for every series that followed ever since.
Kuuga is arguably the darkest series of the "Heisei" era, but as time went on, Kamen Rider's appeal expanded to more viewers. It began a transition to softer viewing content in order to suit a more general audience, becoming more kid friendly.  This change seemed to begin around 2006-2007.  It is now 2015, and there have been many more lighthearted Kamen Rider stories within those nine years.
With that being said, there's pretty much a Kamen Rider show for just about anyone to get into (if this article has caught your interest).  It really depends on your tastes, so I'm going to share five Kamen Rider series that I regard as suitable for beginners:
Kamen Rider Kabuto (Heisei, 2006 – 2007) Neutral series.  This show in my opinion takes you through a bit of Kamen Rider 101.  Various suit designs centered to bug species with exclusive capabilities, human organizations, advanced technology and most importantly; the famous "Rider Kick".
Kamen Rider Kiva (Heisei 2008 – 2009)  Neutral-Dark series.  A very artistic vibe to this show. The plot is divided into two separate timelines, following the lives of two protagonists and how the actions of the past connect to the present.
Kamen Rider OOO (Heisei 2010 – 2011). Lighthearted-Dark series.  Catchy soundtrack with a Ska theme. OOO brings a cast of interesting characters with unique personalities and habits. Even the main antagonists are fun to watch.
Kamen Rider Black (Showa 1987-1988). Dark series.  Arguably the best series of the Showa Era, and has one of the best theme songs and pilot episodes of the entire Kamen Rider franchise. If you can appreciate old school special effects, I recommend this to any newcomer.
Kamen Rider Fourze (Heisei 2011-2012) Lighthearted series.  This goofy, gimmicky series gets mixed opinions from fans.  Think of it as Gurren Lagann meets Kill la Kill.  In fact,–Spoiler Alert!– it was written by the author of both Gurren Lagann and Kill la Kill. If you can get into the two aforementioned anime, you're sure to have a fun time with Fourze (trust me, the resemblance is astonishing).  Whether hated or loved, Fourze has without a doubt made a considerable mark on the brand.
There are a couple more great Kamen Rider series available that some fans may mention are not included in the list (honorable mentions to Kamen Rider W and Gaim), but there are reasons for not recommending them as a selection for a new watcher's first series.
During a staff party for the Lunchbox crew last year, I screened the pilots of a few from my list. Kiva was a favorite of Grayson's, and Reynaldo flat-out loved Black.  You don't have to take my word for it though; scroll down the full list of Kamen Rider shows and decide for yourself which you would like to start with. You may watch in order from 2000 – present, or completely at random like I did (I found it more fun that way).
I got into Kamen Rider in the summer of 2013 and have been a fan since then, and I would like more people to follow the same path. If you're looking for something to do on a Saturday, pick up one of these shows and give the franchise a try.  I feel it's something that deserves a much larger fan base in the US.  Let's Rider Kick caution to the wind and… HENSHIN!
All Kamen Riders from 1971-2012